Indie Chicks Who Freakin' Rock: The Happy Hollows



The Happy Hollows






[MP3]

The Happy Hollows - Vietnam

I have found so many tremendous female fronted bands in the past few weeks that I've decided to start a new feature on Rock Insider called

"Chicks Who Freakin' Rock."

First up in the series: Sarah Negahdari of The Los Angeles' based rock trio

The Happy Hollows

.

I first stumbled across

The Happy Hollows

back in January when I ventured out to the Silverlake Lounge for

The Pity Party

's Monday night residency. Sarah's energy on stage was e-x-p-l-o-s-i-v-e. Her dynamic voice and trademark knee socks came packaged with a writhing sense of rock abandon made the 3 piece feel more like a 12 piece. Sarah used Silverlake Lounge's tiny stage to its fullest in a schizophrenic performance that left the audience awe-struck.

I got to hand it to The Hollows - even in the smallest venues with minimal crowds they always crank their performance to eleven.

LA-Underground

recounted one such performance a few weeks back.

The Happy Hollows

embody everything I love about live music and everything I look for in my nightly wanderings through Los Angeles. They have so much fun on stage and make sure the audience is having just as much fun.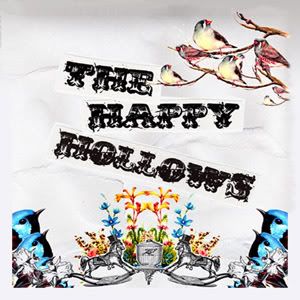 The band recently put out their own EP entitled

Bunnies and Bombs

- which is the perfect companion to their sweet yet destructive live show. You can purchase the EP on the band's myspace page.

Their video for "Vietnam" was also recently chosen as an editor's pick on YouTube. You can watch the video right here. The video perfectly showcases this band's energy and is a

MUST WATCH

.



The Happy Hollows

will be playing

Radio Free Silverlake

's first birf-day party TONIGHT at Boardner's in Hollywood with Rock Insider favs

The Deadly Syndrome

and

The Lights From Here

. Flyer Below:









TONIGHT IN LOS ANGELES:


RFSL

Presents: Let's Independent w/ The Deadly Syndrome, The Lights From Here, The Happy Hollows

@ Boardner's


Calla, The Molecules, Lion Fever

@ Club Spaceland


OOIOO

@ The Echo


Datarock

@ Safari Sam's
Big Search, Hecuba, Mayfly Dance, Lovable @ Silverlake Lounge
Kate Havenik, Astrid Swan, Emma Burgess, Jaymay @ The Hotel Cafe


Donovan Leitch - Femmes and Phantoms, The Deserters

@ The Roxy
Colorforms, Fairmona, Naptunes @ El Cid


The Watson Twins, Greater California

@ The Prospector, Long Beach

Labels: chicks who rock